Division 45 Research Conference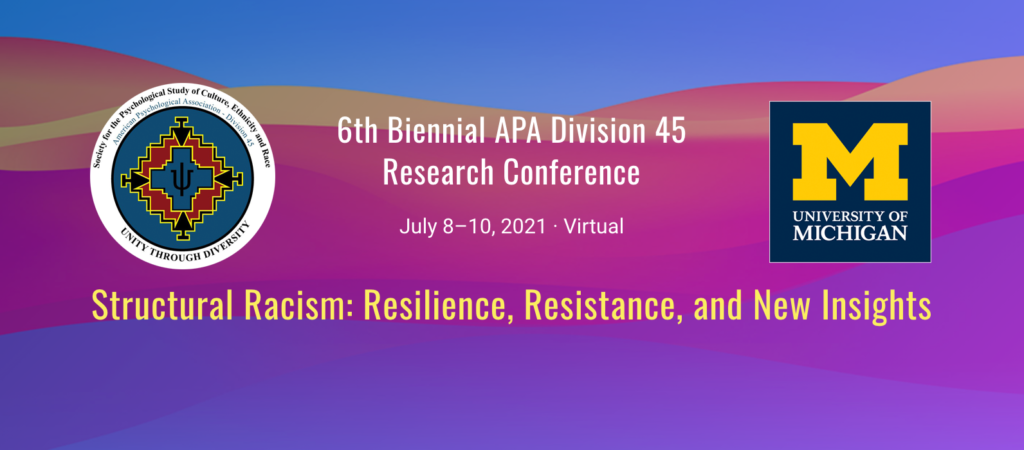 The 2021 conference theme is Structural Racism: Resilience, Resistance and New Insights. We encourage submissions from all areas pertaining to the psychological study of culture, ethnicity, and race. We welcome proposals from individuals at all career stages, including undergraduate and graduate students, early career professionals, and mid- and late-career professionals.
There are four ways for participants to present at the conference. Research symposia (100 minutes) consist of 3-4 stand-alone research papers around a central unifying interest. Proposals may or may not include a discussant to provide summative remarks. Interactive panel discussions (100 minutes) consist of 3-5 participants who have unique and important perspectives on a topic important to the psychological study of ethnic minority issues. The emphasis is on interactive discussion among the panelists as well as the audience without slides. Panel discussions should include a moderator. Participants can also submit an individual research paper (15 minutes) that will be bundled with 2-3 other individual research papers that address a similar theme to create a panel (100 minutes). Finally, individual participants will also have the opportunity to present their research findings via poster sessions. Posters will be grouped according to their research theme.
Since we will use Zoom video conferencing and webinar services for this virtual conference, all participants must provide an email address that is linked to a Zoom account and must have access to a device that meets Zoom system requirements. You can find information for signing up for a free Zoom account here and requirements for a desktop or a mobile device. Please note that presenters may receive further instructions for presenting on Zoom and all presentations will be recorded and shared with attendees after the conference.
All presentation proposals are due March 15, 2021 at 11:59pm PDT.
Participants will be notified by April 27, 2021 as to whether their proposals have been accepted.
SUBMISSION PROCESS
Submit your proposals via the 2021 APA Division 45 Conference Online Submission Portal by March 15, 2021 (11:59PM PDT).
CONVENTION PROGRAM CHAIRS
If you have specific questions about proposal submissions, please feel free to contact:
Dr. Gigi Awad (gawad@austin.utexas.edu)
Dr. Enrique Neblett (eneblett@umich.edu)
For general conference inquiries, please contact the conference co-chair (Robert Sellers) at: APADivision45Conference@gmail.com. You can also visit the conference website for additional information: http://www.apadivision45conference.com/.