Division 45 Supports HOPE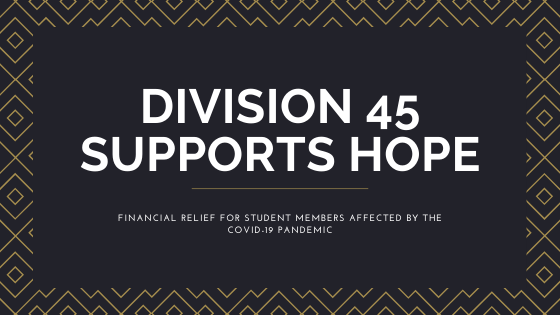 The Executive Committee of Division 45 has developed the HOPE Fund to provide financial support to Division 45 student members and early career professionals experiencing hardships related to the COVID-19 pandemic. Of all the segments of our Division 45 community, the leadership of the Division recognizes that students are facing some of the hardest financial challenges due to the pandemic. Therefore, it is our collective hope that these funds – which do not require repayment – can provide some measure of financial relief and serve as a tangible act of support for our student and early career members.
Who Is Eligible?
A current or past Division 45 early career professional or student member (e.g., undergraduate, graduate or intern) and/or have an advisor or mentor who is a Division 45 member
Has not received a prior HOPE Award
Priority is given to undocumented and/or international students/ECP due to their ineligibility for federal support
How Do I Apply?
Please submit a brief 1 page application at https://sfsu.co1.qualtrics.com/jfe/form/SV_b89hXjf72ThloVL
Information will include:

Name and contact information
University or institutional affiliation
Advisor and advisor contact information
Amount Requested with itemized budget (not to exceed $500)
Brief statement of need (1 paragraph)
Brief statement of proposed use of funds (1 paragraph)

Funds can be used for educational expenses, basic needs (rent, food, gas, etc.), and health expenses
Requests should not exceed $500 unless exceptional need is demonstrated
Request for a specific dollar amount does not guarantee that amount will be granted
The HOPE Fund is a grant and recipients are not required to pay back the awarded funds.
What's the Deadline?
Applications accepted starting January 1, 2021. Acceptances will be processed on a rolling basis pending availability of funds. reviewed on a monthly basis. In general, applications that are submitted by the third Monday of the month, will be reviewed by the fourth week of the month with notifications going out shortly thereafter.
What Next?
You will receive notification of your award via email
You will be provided information about the logistics of receiving the funds