Radical Healing during COVID-19 and Racism Crises
Grace A. Chen, Jioni A. Lewis, Helen A. Neville, Hector Y. Adames, Nayeli Y. Chavez-Dueñas, Bryana H. French, & Della V. Mosley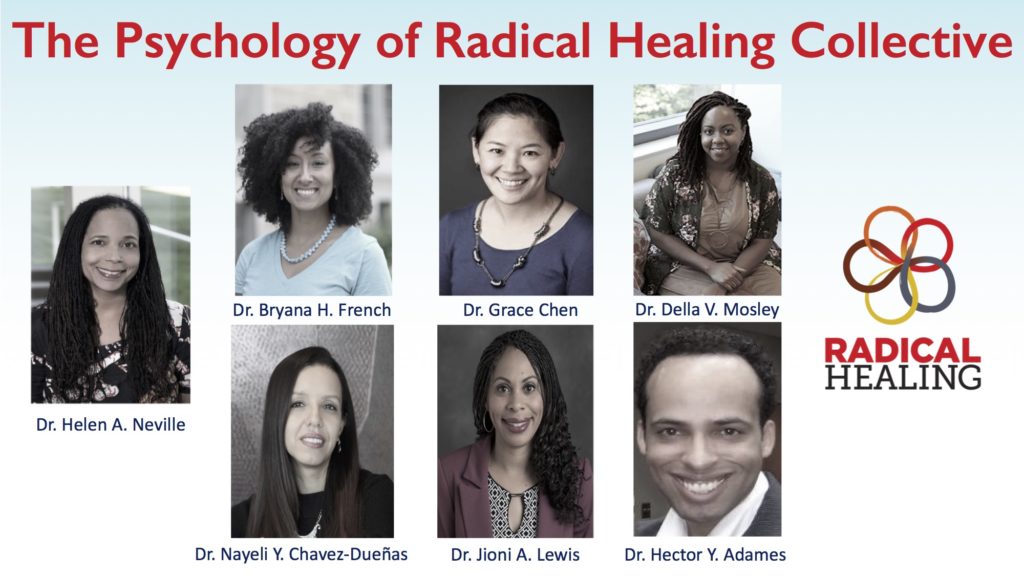 To date, over 200,000 people in the United States (U.S.) have died as a result of complications related to the novel coronavirus (COVID-19). Black, Indigenous, and People of Color (BIPOC) are being disproportionately impacted by COVID-19 in the U.S. in terms of mortality and infection rates. For example, according to data from the COVID Racial Data Tracker, Black people are dying from COVID-19 at 2.4 times the rate of white people. Our communities are hurting because of the pandemic – our people are losing jobs, and some are losing housing. These racial disparities impacting our communities are causing increased levels of distress.
In addition to dealing with the anxiety and grief of the COVID-19 pandemic, we are reeling from the ongoing killings of BIPOC folx, many at the hands of the police. The deaths of Breonna Taylor, George Floyd, Ahmaud Arbery, Nina Pop, Andres Guardado, among others, have hit us hard. These two crises of COVID-19 and systemic racism have combined to negatively affect BIPOC in unique and painful ways.
BIPOC and immigrant folx make up the majority of food system workers in the farm and meat packing industries, where little protection is provided, and they have been exposed to COVID19, which has resulted in high rates of infections. There is also a rise in anti-Asian harassment and assaults due to xenophobia and use of inflammatory language by government officials regarding the "Kung Flu Virus" or "China Virus," with Asian American/Pacific Islander (AAPI) women being 2.4 times more likely to experience discrimination than AAPI men.
The intersection of racial and gender oppression during COVID-19 is also evident in how Black women are being impacted. In an Essence magazine survey, more than 60% of Black women indicated COVID-19 had a negative effect on their emotional well-being and mental health. Additionally, many BIPOC women are assuming the burden of caretaking of family and community during this crisis and shouldering this stress in isolation. Transgender and gender expansive BIPOC folx have fewer sources of support they can turn to in general, so the barriers to community support due to COVID-19 have also intensified. The recent report of immigrant Latinx women being subject to mass non-consensual hysterectomies while in the U.S. Immigration and Customs Enforcement (ICE) detention centers compounds the grief and trauma BIPOC folx are experiencing while witnessing the constant violence against their bodies. Indeed, we are experiencing a collective mourning within our BIPOC communities.
Let's Figure This Out Together
We believe key components of The Psychology of Radical Healing can provide insights about ways to build connection and community while we practice social distancing and work toward healing during this health crisis. While acknowledging the systemic nature of oppression, BIPOC folx can engage in radical healing from racial trauma through self-knowledge, critical consciousness, collectivism, strength and resistance, and hope. The key feature of radical healing is being able to exist in both spaces of resisting oppression while moving toward freedom, liberation, and wellness.
Radical healing reminds us that our personal health is connected to the collective; it involves taking direct action to promote wellness at the individual, family, community, and societal levels. Radical healing encourages Communities of Color to draw on the resilience of our ancestors as we demand justice and equity to address the effects of COVID-19 and continued racial trauma on our lives. We offer the following five recommendations to promote radical healing at this time of fear and uncertainty.
1. Name and Identify Sources of Stress and Trauma
It is important for BIPOC folx to recognize and label how intersectional oppression, such as gendered racism, negatively impacts health and well-being. By applying an intersectional lens, we can name these systems of oppression that lead to increased stress and trauma for BIPOC folx. Increasing one's awareness about the ways stress and trauma are experienced in our bodies is essential to be able to plan and implement ways to cope and heal.
2. Stay Connected and Increase Emotional Intimacy
We can continue to foster emotional connections within our communities while maintaining physical distance. In addition, it is important to nurture connection through activities, such as enjoying music on Instagram Live, like the recent Verzuz battles between iconic music artists, practicing cultural dance with family or friends, or co-creating a healing music playlist. In addition, this could be an opportunity to engage in longer and more intimate conversations with older family members about their lives and stories of resilience. Or, if you are older, you could record your own stories to share with family members. In doing so, you have the opportunity to both document your family's history and instill a sense of hope about our collective futures.
3. Engage in Self-care and Practice Self-compassion
Self-care means taking care of ourselves so that we can continue to be in community with others in a meaningful way. Consider seeking psychotherapy with a Therapist of Color who understands oppression and sees your full humanity. Many BIPOC folx might find that stress and trauma reside in one's body in ways that warrant engaging in mind-body interventions, such as yoga, meditation, and mindfulness to reconnect with oneself. Additionally, documented benefits of self-compassion show that when we are able to be kind to ourselves, we are able to strengthen our compassion for others. Explore additional ways to practice self-compassion.
4. Envision Possibilities for Wellness, Freedom, and Dignity After COVID-19
This is a good time to reflect on and dream about future possibilities. The Civic Imagination Project offers resources and highlights the stories of people using narratives to build shared understandings of a better world. With friends and family, you could contemplate questions such as: What would the world look like if all BIPOC folx were valued and respected? What would be needed for change to happen?
5. Take Action to Address Racism and Inequities related to COVID-19 and Promote Health for All
Use your voice to stand up and speak out against racism and xenophobia that harms communities of color. Taking action promotes community healing and can also foster individual healing. For example, Eleanor Seaton and her colleagues found evidence that supporting Black Lives Matter had health benefits among Black Americans.
Now is the time to honor collectivism and interdependence. The dominant narrative of individualism and self-service is only causing more harm. Most communities of color operate in a collectivist culture and lean on one another for support. The world needs this spirit of interdependence and unity now more than ever as the act of one person can have such an impact on the broader community. We encourage all of us to promote radical healing as a form of survival and resistance during these times of fear, hopelessness, and uncertainty.
Authors' note: This article includes content previously published in The Psychology of Radical Healing Collective's Psychology Today blog.